Quick Tour of Soundproof Windows
The quickest way to get an understanding of Soundproof Windows is to watch our short soundproof window video.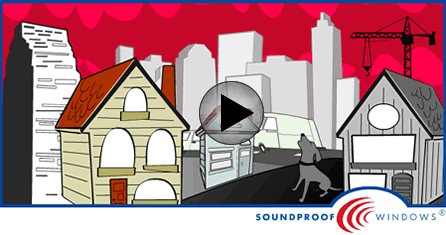 If you are in a hurry and want to find out what Soundproof Windows are all about quickly, read this page.
Soundproof Windows are hi-tech windows engineered to stop noise. See our How Soundproof Windows Work page.


Soundproof Windows stop noise coming in (or going out) by 75-95%, noise such as traffic, barking dogs, airports, voices, etc. Most noise travels into dwellings or buildings through the windows. See our Noise Comparison page for more information.


Soundproof Windows are custom-made of heavy duty laminated glass and aluminum frames to maximize sound-stopping capabilities and are virtually unnoticeable after installation. Our Photos page can give you an idea of what they look like.


Soundproof Windows are not replacement windows; they are usually mounted on the inside of your existing windows. Read our Replacement Windows page to discover how you can avoid replacing your windows.


Soundproof Windows open and close just like regular windows. Our Flash Demo shows the operation of the window.


You can install Soundproof Windows yourself (with about the same degree of difficulty as installing blinds), or we can arrange for professional installation.


The price of Soundproof Windows is about the same as high-quality dual pane windows.


We also make soundproof sliding glass doors. See our Soundproof Doors page for samples.


We have been in the business for over 15 years... Check out some of our customer comments.
If you would like to speak with a soundproofing expert about your situation, or are ready to order, please go to our Free Estimate page. Or call us toll free at 877-438-7843.
Or... feel free to browse our site. We have tried to give as much information as possible on soundproofing and how our Soundproof Windows work to stop noise and hope you find it informative as well. The best place to start is the Home page... or the Site Map for a complete list of the pages on our website.
Thank you,
Soundproof Windows