Information for Architects & Acoustical Engineers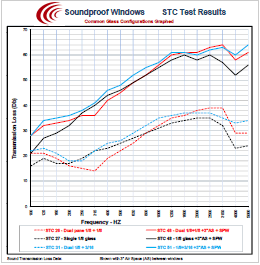 A Soundproof Window is a secondary fully operational window added behind the primary window. It has a small unobtrusive footprint than virtually disappears.
Resolve Your Noise Issues
With Soundproof Windows you can easily achieve window STCs from 48 to 57. Standard dual pane and single pane windows have STCs ranging from 26 to 32 (the dotted lines in this chart). Add Soundproof Windows (the solid chart lines) behind these primary windows and achieve STCs from 48 to 52. Add more than the typical 3" of air space between the two windows and easily achieve STCs up to 57.
Keep the same outside appearance for all of the windows on a project. Add Soundproof Windows only behind those windows that need soundproofing. More can be added after project completion if needed.
---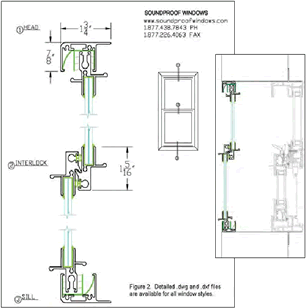 Engineering Innovation
Rather than modifying some other window design, we designed our Soundproof Windows from the ground up to maximize noise reduction. Extensive testing and retesting perfected our design, resulting in these superior STC results. The added benefits were air infiltration reduction and improved insulation values. .



Click here to examine detailed engineering drawings.
---
STC Results Chart
This summary chart shows the 6 primary window glass configurations tested. Each configuration was tested by itself and then with the added Soundproof Window at 4 different air spaces (glass to glass measurements) shown here.
Click here to review the full details.


Lab Proven STC Ratings
Extensive recent lab tests were performed on Soundproof Windows products by Western Electro-Acoustic Laboratory, an accredited independent acoustic laboratory in California.

A battery of over 40 tests was completed using Soundproof Windows behind six different common primary window glass configurations. Each combination was measured at various air spaces ranging from 2" to 8".

Click here to examine the full results and actual test reports.
---