Frequently Asked Questions
General Information
Are these replacement windows?
No. Our windows are better than replacement windows in many ways. They have better insulation and sound stopping ability than ANY replacement window. For a comparison of Soundproof Windows vs. replacement windows, please see our Replacement Windows page.

Back to Top

Do they open and close like regular windows?
Yes, Soundproof Windows operate like your current windows. If your windows slide open--so will these. If your windows raise upward--so will these. Soundproof Windows are fully operational, and easy to remove for cleaning. Please check out our Soundproof Window Demonstration for an example of how they work.

Back to Top

What do you mean, a second window installed behind our current window? How does it work?
Your current window is mounted on the outside edge of your window opening; Soundproof Windows are mounted to the inside edge, leaving your current window intact - a two-window system, as shown in the illustration below: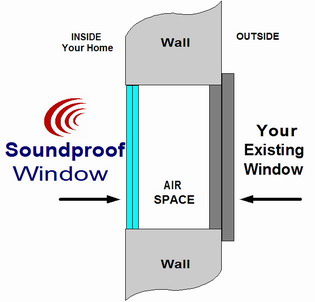 Back to Top

Can I use my existing blinds and draperies?
Yes. Depending on your window, the blinds may mount between the two windows, as shown in these photos. If you do this, you will seldom if ever need to clean your blinds! Moving your blinds or shutters may be necessary, but seldom present a problem requiring removal. You can also re-mount the blinds over the Soundproof Windows.

Back to Top

What about cleaning the windows?
Good news and bad news. The bad news is you have twice as much glass to clean! The good news is our glass is easy to remove, making cleaning much easier. Unless you frequently keep the windows open, cleaning the inside will seldom be needed.

Back to Top

Can your windows go outside?
Yes, there are some window configurations that require us to mount on the outside. There is no problem in doing this. Please contact us today for a discussion of how our soundproof windows can solve your noise problem in this situation.

Back to Top

My Home Owner Association won't let us replace our windows! Would they allow Soundproof Windows?
Yes. We have never had our windows rejected by any Homeowner Association. Since our Soundproof Windows are installed on the inside, there is/should be no reason to even get approval. They do not change the outside appearance and should be considered similar to curtains (you can barely tell that they exist).

Back to Top

Are your windows "storm windows"?
To many people, storm windows are a one-piece cover put on the outside of your window for the winter. It does not open and is usually clear glass (sometimes a sheet of plastic). Most other types of year-round storm windows mount on the outside of your current window. Soundproof Windows are an interior storm-style window (but sometimes they are mounted on the outside), significantly modified to stop sound. For more information, please see our page on Storm Windows.

Back to Top

What do they look like? It sounds like they would look tacky.
They are attractive and beautify the interior of your home. Even some historically preserved buildings are installing them. Double-windows have been used for many years in colder and hotter climates. Please see our Photo Gallery for some examples. Additionally, the frames are available in a variety of colors, or can be custom-colored, to match your decor. Please contact us today for a discussion of how our soundproof windows can enhance your current windows.
Back to Top

Can your windows be used for recording studios, including home recording studios?
Yes, we have new line of recording studio windows and doors, Studio Window Max™ and Studio Door Max™. You can find out more information on our Recording Studio page.