Recording Studio Windows

Slanted or Vertical Windows for Sound Studios
Our sound studio windows consist of two independent fixed windows on each side of your window opening. One sound studio window is vertical and the second one can be installed vertically or slanted, your choice at the time of installation.
We tested our window in a 10.5" wall (overall thickness) with the window slanted back 5.0", and achieved an STC of 61. For the 8.0" wall, we
had a setback of 3.0", and it also tested at an STC value of 61. The
sound studio window angle is easily adjusted during the installation.
With both sound studio windows mounted vertically, we achieved STC values of 61 to 62.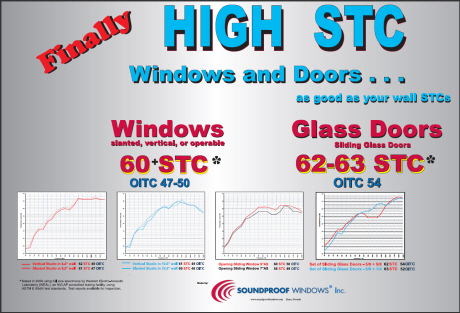 Operable Sliding Sound Studio Windows
Another option for recording sound studio windows are our operable sliding windows. Two sliding sound studio windows allow you access between the two rooms and have more direct discussions while not recording in your sound studio. Until we released our sound studio windows, having an operable pair of soundproofing windows with high STCs was not available in the industry. Our operable recording sound studio windows achieve STCs from 62 to 63.
Our Sound Studio Windows Are Easy to Install
Slanted Glass is field adjustable
Complete Architectural Drawings for use in sound studio construction

Full Sound Studio Specimen 6' by 4' Acoustical Lab Tested



Sound Studio Windows, Glass Configurations
All our sound studio windows and sound studio doors use laminated glass that is NOT dual pane. In sound studios, dual pane glass is never a good noise reduction glass configuration.
We use laminated glass that is custom made for our sound studio windows that is 0.650 inches thick. We also use 0.250 inch thick laminated glass. One or both of the sound studio windows in the opening will have the special 0.650 inch laminated glass.
Raise the STC of Your Existing Sound Studio Window
Add one of our sound studio windows to your existing studio window to improve the STC value of what you currently have. Our sound studio window is only 1.25" thick and can be mounted on either side of your current sound studio window. Ask us for details about how this can be done to raise your existing STC value into the 60s.
Find Out More About Sound Studio Windows
Request a free consultation on your recording studio soundproofing needs by filling out our inquiry form, or call us toll-free at 877-438-7843.
Click on recording studio doors to found out more on soundproofing for your studio.
Back to main page on sound studio soundproofing.